Roof expansion joint cover featuring dual sealing, dual anchoring, dual level roof membrane integration and roof-to-wall closure transitions.
Description
High movement
Redundant sealing and fastening
Double-level roof-membrane integration flanges
UV-stable
Details
RJ-0200: 2-3 inches (50-75mm)
RJ-0400: 3-5 inches (75-125mm)
RJ-0600: 5-7 inches (125-175mm)
RJ-0800: 7-9 inches (175-225mm)
Movement
RJ-0200: 2 1/2 inches (60mm)
RJ-0400: 5 inches (125mm)
RJ-0600: 7 inches (175mm)
RJ-0800: 9 inches (225mm)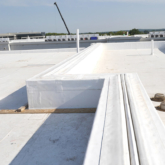 Description
Details
Watertight tie-in to Sarnafil® and Sikaplan® roofing and waterproofing systems.
Redundant sealing across the joint opening
Redundant dual-level roof-membrane integration
Thermoplastic hot-air weldable integration
Description
When Emseal's Roofjoint product is used in conjunction with Hydrotech's Monolithic Membrane 6125® (MM6125®) waterproofing/roofing membrane, Hydrotech can provide a true single source Watertightness Warranty for up to 20 years.
Details
watertight tie-in to MM6125 hot applied rubberized asphalt waterproofing membrane
Redundant sealing across the joint opening
Allows drainage across the joint opening
Redundant dual-level roof-membrane integration