Selection Guide: Decks/Parking
Horizontal expansion joints - watertight joint systems for parking, car park, stadium and other decks.
NOTE: Products are listed in order of preference and frequency of use for addressing most horizontal-plane deck expansion joints. If not sure of which system to use, Consult Emseal.
Sika/Emseal Sole Source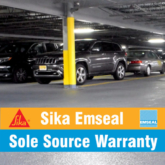 Description
A warranty offering for the US market that combines Sikalastic DeckPro and Emseal Expansion Joint systems under a Sole Source Warranty.
Details
This system offers the following advantages:
1. Traffic membrane and expansion joint supplied and backed by a single manufacturer.
2. Backed by a manufacturer in business for over 100 years.
3. Tested and proven details to ensure the system will work.
4. Local representatives available to work with local contractors.