Waterproofing Roof to Wall Expansion Joints at Kansas City International Airport Single-Terminal
Missouri
Date: 2020, 2021, 2022
Waterproofing roof to wall expansion joints between buildings may sound daunting, but when you work with Sika Emseal we simplify this unnerving assignment. The key component to ensuring the expansion joints are watertight comes down to the ability to create factory fabricated transitions and terminations, thereby maintaining continuity of seal. Waterproof roof to wall expansion joints can be achieved as demonstrated in this case study.
At the Kansas City International Airport (KCI), we were entrusted to help design and manufacture the 8-inch (200mm) to 10-inch (250mm) wide waterproof roof to wall expansion joints that wrapped the newly constructed single terminal. Located right in the middle of "Tornado Alley" further stresses the importance of robust waterproofing and ability to handle high movement conditions. The integration of the roof to wall expansion joints is seamless. The collaboration between Sika Sarnafil and Emseal warranting the tie in with the PVC roofing membrane to the RoofJoint roof expansion joint system was another enticing detail to the design team. The following case study demonstrates the attention to detail and can-do attitude we challenge our team delivers on all projects.
Expansion Joint CAD Details Guide the Factory Weld Team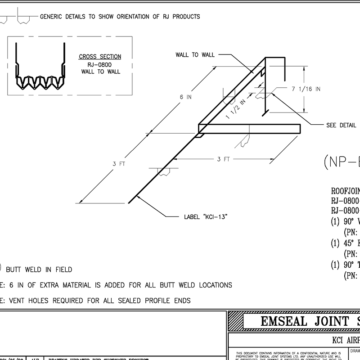 Waterproof roof to wall expansion joints should always start with a drawing to accurately convey the application. Here a parapet expansion joint detail drawing produced from field measurements guides the work of Sika Emseal's weld team. RoofJoint was factory welded to transition of the expansion joint, roof scupper, and parapet. A factory welded downturn transition to the exterior wall is sealed with a RoofJoint Closure which connects to Seismic Colorseal.
From Expansion Joint Detail to Field Installation
Factory Welded Transitions Bridge the Roofs
This image shows a continuous waterproof expansion joint from the upper roof to the exterior wall, down the façade, and into the lower roof. Continuity of seal is ensured by incorporating factory welded transitions at both locations. A RoofJoint Closure is utilized at the downturn at the top of the wall, and a factory supplied "boot" termination at the bottom. Seismic Colorseal marries into each of these pre-welded pieces to preserve continuity of seal between the upper and lower roofs.
Custom Roof Scupper Weld
Flat Roof Transition to Corner Wall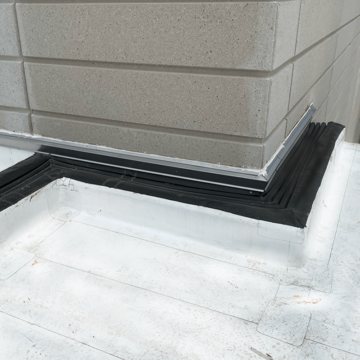 RoofJoint runs along top of a roof curb, then doglegs horizontally then turns down to Seismic Colorseal at the vertical exterior façade. A RoofJoint Closure is incorporated to ensure continuity of seal. All of these transitions are factory-welded by our expert weld team.
Here is another upper to lower roof adjoined by a wall. At the top, RoofJoint downturns to Seismic Colorseal with a factory-fabricated RoofJoint Closure. Seismic Colorseal then continues down the metal panel façade and transitions under the soffit with a Universal 90 Transition. Colorseal continues down the wall where it terminates into a RoofJoint "boot". Continuity of seal is maintained to ensure watertight, trouble-free expansion joints even with these dissimilar materials and directional changes.
Waterproof Corner Wall Expansion Joints
Precompressed foam joints are ideal for inside corner wall conditions. The backpressure from the foam is what ensures this 9-inch (225mm) wide Seismic Colorseal remains in place.
Non-invasive anchoring is crucial for these corner conditions, as it can be almost impossible to maneuver a drill into place to secure a mechanically fastened joint.
Seismic Rated Vertical Joints Sealed
Seismic expansion joints like this 9-inch (225mm) Seismic Colorseal are quickly and easily installed into the structural opening. At +/- 50% movement, this product can expand up to 13.5-inches (340mm) and compress down to 4.5-inches (115mm) handling a variety of different movement criteria, such as shear, deflection, wind-sway, seismic, and more.
A near tensionless bond with the adjacent substrates is achieved once the Seismic Colorseal precompressed foam has expanded. A bead of field applied sealant is caulked and tooled to seal off the joint and create a watertight condition.